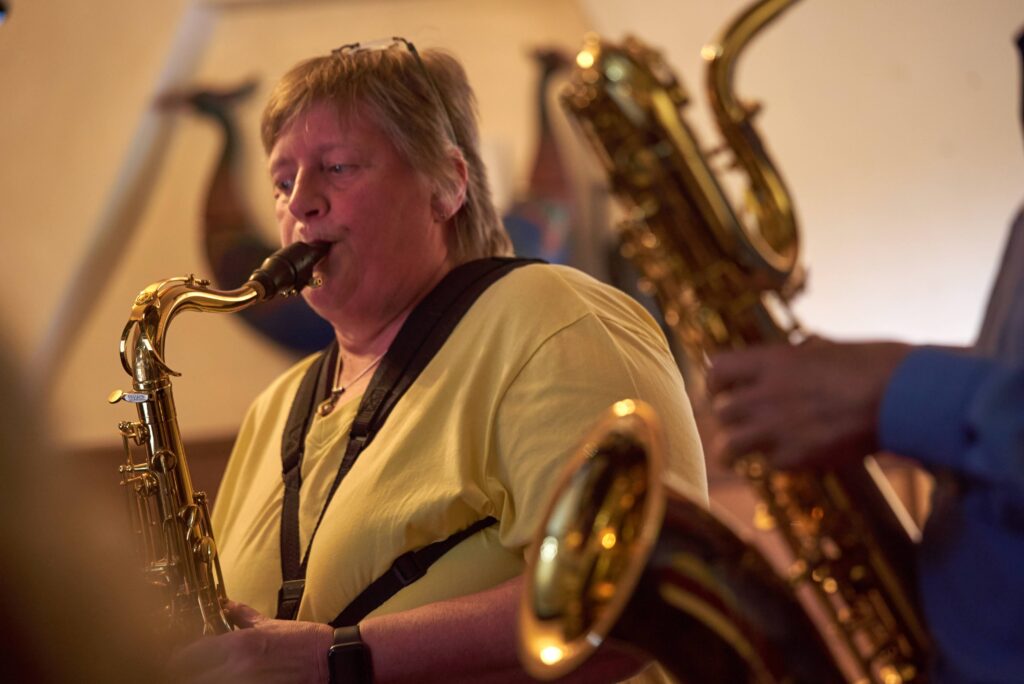 An Evening with Sf Sax + soloists Katie Herrington (clarinet), Persephone Dennis (voice) acc. Ben Wheeler (piano) and Louisa Bond (solo piano)
We had a wonderful concert on Saturday 14th May 2022 with Sf Sax, a quintet group, and soloists. Sf Sax wore Ukrainian colours and put together an programme of uplifting music to get our toes tapping and gentler pieces such as Blue Moon and Hallelujah. They played the Ukrainian national anthem as a lovely touch to the evening and, towards the end, played the British National Anthem as it is so near our Queen's Platinum Jubilee. The concert ended with the Liberty Bell March. It was the first time they had played in a concert of their own since the pandemic began and they did us proud! Thank you all so much.
Katie Herrington on the clarinet played Tico-Tico no Fuba, an extremely lively piece which was technically conquered by Katie! Persephone Dennis sang two beautifully heart warming songs "Can't Help Lovin' Dat Man" and "A Nightingale Sang in Berkeley Square" and Ben fabulously accompanied on the piano keys with some incredible harmonies. Louisa Bond played "The Man I Love" and also "Mariage D'amour" and took us all to another place with her beautiful touch on the keys. She was asked to play another by the audience and ended with Ludovico Einaudi's "Primavera".
Thank you all so much, and thank you to Ben Wheeler Pianos Ltd for sponsoring this concert.
Our next concert is on Saturday 18th June at 7pm "Summer Delights! With the Kingsclere Singers". Tickets are £12 and can be purchased now on Eventbrite, or you can book tickets by ringing 01189 981 4504.
We so hope you will join us. Warmest wishes, Vanessa and Georgi.